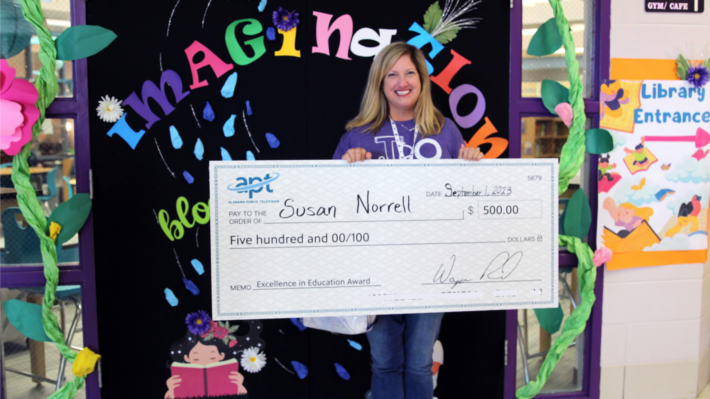 ---
Susan Norrell has been a K-12 educator for 15 years. Today, she teaches 7th-grade gifted students and 8th-grade English on the eastern shoreline of Mobile Bay. "Living on the coast is magical," she said. "There is something special about being on the water that brings families together."
While her passion for her work might fool you, education was not her first career path. Norrell worked as a paralegal before taking a job at Spring Hill College.
"I would walk around the department looking at all the fun books and see these happy students coming and going. One day, the secretary of the education department, who I went to lunch with frequently, asked, 'Why don't you go back to school? We have a wonderful education program here.' I learned I could receive a tuition break, so I went back to school!"
Read our interview with Ms. Norrell to learn about her teaching style and what inspires her to be a life-long learner.
What's your favorite part of your job?
I know this sounds crazy, but I love learning. When you are in a classroom, you are still learning. You learn ways to teach the curriculum more precisely the more you teach it. You begin to learn how to see the 'look-fors,' or the students who won't ask for help or are finished and need more to do. You learn how to plan better and become better at collaborating with your peers. I think this is why it is so frustrating when a teacher has to stop and correct behaviors. It takes a lot of time, effort and energy to teach a lesson you hope will help a student grow and prepare for the next grade level.
How do you encourage student curiosity?
Questioning. Using different introductions to units in different forms. Allowing the students to participate in independent studies and doing fun activities they don't expect will lead to amazing learning. 
Alabama Public Television's mission is to inspire, educate, entertain, and inform. Do you see similarities between APT's mission and your own?
That is what teachers do. Educate, inspire, inform and hopefully use entertaining ways for students to accomplish their learning. 'Inspire' may be the most important of the four. If you want a student to learn the content in any given subject, you have to motivate them. If you do not motivate a student to learn the content, their achievement will be limited. APT has designed this amazing website full of free educational information that can be used to teach in a plethora of ways.
What is your favorite subject to teach?
I love English. I love teaching gifted students. Would you believe next year I am going to teach English to gifted students? I currently teach both in separate classes, but next year, I will get to do both at the same time!
When you were a kid, what did you want to be when you grew up?
When I was about eight years old, my mother gave me this Dr. Seuss book called All About Me. The book was full of pages of questions to answer and signatures to find. For example, you were asked to get the signature of your postman or count and record the number of steps from your front door to your mailbox. On another page half-way through the book, there was the question, "What do you want to be when you grow up?" The answer I wrote in my not-so-neat eight-year-old handwriting was 'teacher.'
Tell us about a time when you helped a student overcome a problem.
Unfortunately, bullying is a problem in middle school. Last week, I was monitoring the hallway between classes and saw a boy purposely try to trip this poor student. The student looked like she may be picked on frequently. His buddy laughed, and they thought it was funny until I asked them to stop. I had both of them apologize to the girl they tripped. We are really diligent about not allowing this in our school, but with almost 900 students, it is impossible to prevent it from happening. It takes all of us to be on the lookout. Our counselors use different methods to stay on top of this as well. If a student is caught, they will get on-campus suspension. We take it very seriously.
How do you manage parent and administrator expectations?
Basically, do more than asked of whenever you can. I try to be a rule-follower. This means listening to your principal and doing the little things they ask of you, such as never leave your students without another teacher, pick up trash if you see it, come to me if you need help, don't be too friendly with the students and always be professional. Parents like communication. For the most part, they like to be involved. If you have a problem, let them know. If the problem gets better, let them know.
What would you say to the incoming class of 2023 - 2024?
It is going to be a great year! We will have a lot of fun together. Follow the rules and always be respectful. You don't have to like someone, but you do have to respect people, teachers, property and yourself.  
Do you know an extradorinaiy teacher in your community? Nominate them for the APT Excellence in Education award!