---
PREMIERES THURSDAY, AUG. 3 at 8:00PM
on APT and the PBS App.
On July 29, 1862, a ship commissioned by the Confederacy and built secretly in Liverpool's Laird shipyard slipped out of England to seek out and destroy Union commercial vessels on the high seas. So began the voyage of the CSS Alabama and its captain Raphael Semmes, deemed "pirates" by the North as they captured and burned their prey. Semmes and the Alabama soon became famous around the world as they narrowly escaped from warships sent by U.S. Naval Secretary Gideon Welles. After 22 months of wreaking destruction, the Alabama, its crew mutinous and the ship failing, had its final battle with the USS Kearsarge off Cherbourg, France, witnessed by thousands along the shore.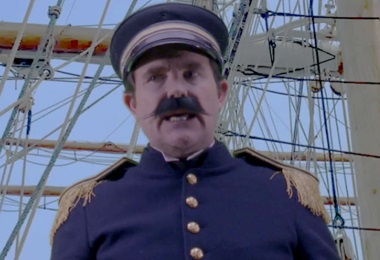 SINK THE ALABAMA, a new film by Robert Clem, director of previous films on Big Jim Folsom and John Patterson, combines documentary with drama: with commentary from Mobile historian John Sledge, British historian Amanda Foreman, Semmes biographer Stephen Fox, and U.S. Naval historian Craig Symonds; and dramatized scenes based on the journals of Raphael Semmes, the diaries of Gideon Welles and Wolf of the Deep by  Stephen Fox. The film also includes letters between Semmes and his wife Anne Spencer Semmes, an ardent abolitionist who left Mobile for her native Cincinatti when war broke out, but as "the wife of the pirate Semmes," she was forced by Union authorities to move back to Mobile until the war ended.
Filmmaker Clem also produced
Alabama Black Belt Blues
for APT and is currently working on a new film for us about Big Mama Thornton, expected to debut in 2024.