---
PBS SHINES A LIGHT ON TROUBLING ISSUES
INDEPENDENT LENS presents "Hazing"
Monday, Sept. 12 at 9:00pm / WATCH NOW
PBS's Emmy® Award-winning documentary anthology series INDEPENDENT LENS kicks off a new season September 12 with acclaimed filmmaker Byron Hurt's documentary "Hazing."  Building on years of countless hazing-related tragedies and grappling with his own experiences, Hurt ("Hip-Hop: Beyond Beats and Rhymes," "Soul Food Junkies") explores the function, politics, and consequences of pledging rituals at universities and colleges across the U.S. Through a series of intimate interviews with victims' families, survivors, and his fellow fraternity brothers, Hurt and his subjects reflect on the realities of hazing, and question the purpose of these ongoing rite-of-passage rituals in sororities, fraternities, and other groups.
Through a look at the history of hazing and deeply personal narratives of those affected by the rituals, the film tackles topics of violence, sexual degradation, binge drinking, institutional coverups, and debased notions of manhood. Interviews with violence-prevention experts and campus professional staff provide broader cultural context for these practices and their association with Greek-letter organizations. Hurt also discusses victim-blaming narratives, offering insight into the psychology of belonging, insecurity, and cycles of abuse which largely contribute to hazing culture. "Hazing" takes a look inward as well, as Hurt and many of the film's subjects find themselves conflicted with the joys of Greek culture while also admitting to the perils and damaging effects of pledging practices.
FACING SUICIDE
Crucial Information, Resources And Hope In The Face Of America's Suicide Crisis
Tuesday, Sept. 13 at 8:00pm
Each year tens of thousands of Americans take their own lives—there were more than 45,000 deaths by suicide in 2020 alone—and many more have thoughts of suicide. Facing Suicide, a new documentary and impact campaign from Twin Cities PBS, explores the stories of Americans impacted by suicide, and journeys to the frontlines of medical and scientific research to meet those who are working to help people at risk. Timely and informative, the project aims to elevate and destigmatize the topic of suicide, empowering audiences and communities with prevention strategies.
Facing Suicide shares the deeply personal stories of those directly affected by suicide as well as insights from experts and researchers who are making a difference. The documentary will introduce viewers to a diverse group of Americans who have been affected by suicide, including high school basketball champions on a Native American reservation in Montana, who responded to the suicide crisis in their community with a prevention campaign that went viral; the wife of a Midwestern farmer who is determined that she and her children will live a full and hopeful life after her husband's death; and a Black woman in Charlotte, NC, who overcame her own mental health challenges to become a suicide prevention advocate. The film also features leading scientists, practitioners, and innovative thinkers whose discoveries in neuroscience, genetics, psychology, and other fields are revealing the true nature of the problem as well as promising solutions.
"Suicide touches virtually every demographic group in the U.S., and rates have increased significantly since the late 1990s," said Michael Rosenfeld, project lead and executive producer of the Facing Suicide documentary. "But experts have learned a lot about suicide in the past few years, offering insights that suggest new strategies for prevention. We explore the latest discoveries in our film, woven together with inspiring stories of hope and recovery."
A companion digital series, to be released on the PBS YouTube channel, works to create a space of understanding, hope, and action for young people whose lives have been touched by suicide. The digital series is hosted by Shani Tran, a Licensed Professional Clinical Counselor who has worked with clients dealing with self-harm and suicidal ideation across communities and demographics. Each episode features young adults who have attempted or contemplated suicide describing how they found the support and hope they needed to recover. Through their reflections, they reveal the power of friends and peers to recognize the warning signs, reach out, and help.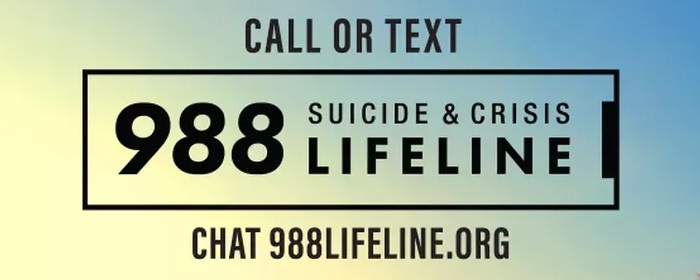 If you are considering suicide, or if you or someone you know is in emotional crisis, please call or text 988. The 988 Suicide & Crisis Lifeline is a national network of local crisis centers that provides free and confidential emotional support to people in suicidal crisis or emotional distress.