---
Jon Stewart and Musical Guests Honor Members of the Military
FRIDAY, NOV. 10 at 8:30PM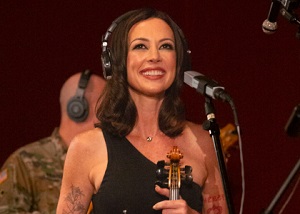 Join us on Veterans Day as we pay tribute to our nation's heroes with SALUTE TO SERVCE: A VETERANS DAY CELEBRATION featuring the U.S. Army Field Band and Alabama singer/songwriter Amanda Shires. Jon Stewart, comedian and recent recipient of the Kennedy Center Mark Twain Prize for American Humor, hosts the celebration which features other stellar performers including country music artist Mickey Guyton and Broadway star Mandy Gonzalez.
The special is a heartfelt showcase of musical diversity and award-winning singing talent. The special will also introduce real-life heroes like Medal of Honor recipient and Green Beret Colonel Paris Davis – a Vietnam War Veteran – and trailblazer Evelyn Kandel, a 90-year-old Korean War-era veteran who paved a way for women to serve their country. Stewart sits down with veterans of all service branches and generations to explore stories of courage and camaraderie.
Through inspiring music, the soldiers of the U.S. Army Field Band will lead a collective salute to the many heroes who have served, sacrificed, and protected the nation, as well as inspire a new generation of America's defenders, as all reflect on the enduring spirit of America for Veterans Day.
"The U.S. Army Field Band is one of the finest ensembles of its kind, and it is an honor to bring its sound to America in this special," said executive producer and director Habib Azar. "With Jon Stewart as our host, we honor our veterans and their service to our country in a program which is celebratory and entertaining."