---
THURSDAY at 8:00PM
Last year, agriculture alumni from Auburn University led a state-wide campaign to bring visibility to the work of Alabama's farmers in the agricultural industry. Spotlight on Agriculture presents the in-depth mission of the Down to Earth sustainability campaign, supported by Governor Kay Ivey and nine partner organizations such as Auburn University, Alabama Cooperative Extension System and other farms and agribusinesses from across the state.
Sustainability and profitability are mindsets that can be difficult for farmers in the agricultural industry to balance. Spotlight on Agriculture features interviews from farmers and agribusiness representatives who want to be open with their practices and join the sustainability conversation. Campaign partners in the film include Petals From The Past Nursery, 2 Mile Cattle Company, Tubbs Livestock Company, Haynes Farm, Grace Farming Company and Alabama Forestry Commission. Farmers tell detailed stories of their of sustainability practices and how they've come a long way in maintaining land using technology, granting them the ability to do more with less.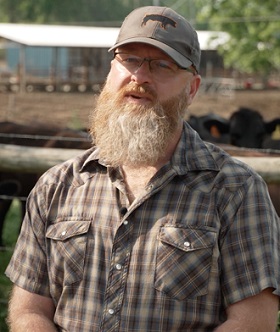 Farming experts in Spotlight on Agriculture show their knowledge of animal and plant efficiency, usage of data and tech, carbon emissions, conserving natural resources and smart land management to sustain for future generations. Understanding all these concepts are important in implementing sustainable practices in the agricultural industry. Drip irrigation is a practice that helps conserve water supply and soil nutrients. In rotational grazing, moving livestock to other pastures will allow plants to regrow between grazings and improve soil health. Lowering carbon footprint is a common goal among farmers as land management techniques continue to develop.
The Down to Earth campaign encourages people to grow their own backyard gardens and pass on sustainability values to future generations. Spotlight on Agriculture stresses the significance of consumers buying produce from local stores to support local farms in Alabama. Executive producer Mike Ousley provides members of the Down to Earth committee a platform to express their values and bring awareness to forward-thinking, sustainable practices for Alabama agriculture.