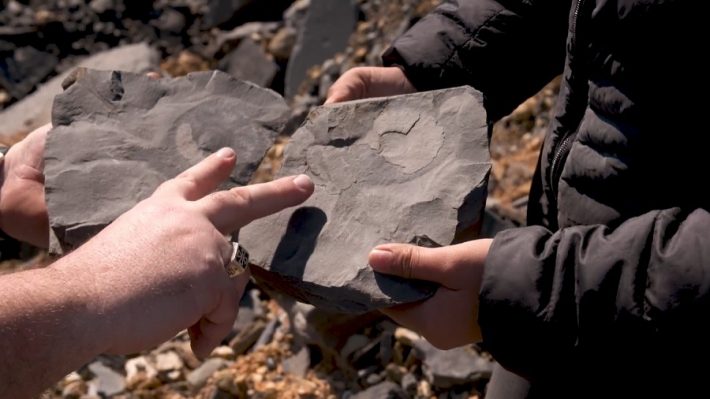 ---
It is always fun to travel along with Dr. Doug Phillips as he explores the natural wonders of Alabama, and you can be sure you will always discover something new.  In "Alabama Fossils," the hunt is for things that are millions of years old. The program takes you to spots all around Alabama where fossils can be found, from the mountains in the north to the beaches in the south, and examines what this fossil record tells us about Alabama's ancient past.
DISCOVERING ALABAMA takes you to places where children and adults can look for fossils today, such as the University of Alabama's Harrell Station Paleontological Site in central Alabama. Once the bottom of an ancient sea, the area has yielded the remains of mosasaurs, dinosaurs and many invertebrates according to Thomas Prescott Atkinson, vice president of the Alabama Paleontological Society.  At the world famous Steven C. Minkin Paleozoic Footprint Site in northwest Alabama, visitors can see the tracks of many ancient creatures, captured when the soft earth they walked over turned into stone. Featured in the 2006 DISCOVERING ALABAMA episode "Tracks Across Time," this has been called one of the most important trackway sites in the world.
The episode also visits some of the museums in Alabama that display fossils, including McWane Center in Birmingham, the Cook Museum of Natural Science in Decatur, Turtle Point Environmental Science Center in Flomaton and the Alabama Museum of Natural History in Tuscaloosa.
DISCOVERING ALABAMA has been a favorite of Alabama Public Television viewers for more than 35 years and is the winner of a number of Southeast Region Emmy Awards. The program is also a valuable education tool used by teachers around the state. So as Doug always says at the start of his programs, "Come with us as we Discover Alabama."