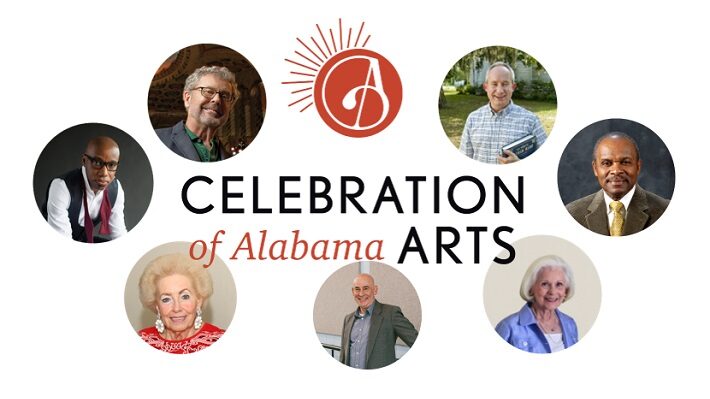 ---
Celebration of Alabama Arts 2022
Seven of Alabama artists and art advocates are recognized for their contributions to Alabama culture.
The Alabama State Council on the Arts has honored excellence in art since 1971, and 2022 is no exception. Musicians, a visual artist, a dancer, an art administrator, and a lifelong patron are all recognized this year. The ceremony includes performances by Innergy INC. dancers, the Aeolians of Oakwood University, Alabama Ballet, Red Mountain Theatre, and more. Watch it all on August 4 on Alabama Public Television.
Meet The Honorees
Wes Chapman - Governor's Arts Award
Wes Chapman has danced just about everywhere. This Union Springs native became a principal dancer with American Ballet Theatre only six years after graduating high school. Chapman has danced with the Bavarian National Ballet in Germany and worked as a guest instructor  at London's Royal Ballet, as well as received an Alabama Arts Ambassadorship and many other honors. His storied career continues in his current role as Chair of the Dance Department at the Alabama School of Fine Arts.
Jason Max Ferdinand - Governor's Arts Award
Jason Max Ferdinand, a professor, conductor, and composer originally from Trinidad and Tobago, serves as Chair of Oakwood University's Music Department, where he directs the Aeolians, Oakwood's world-renowned choir. Ferdinand is founding artistic director of The Jason Max Ferdinand Singers: An Ensemble of Exceptional Talents, author of Teaching with Heart: Tools for Addressing Societal Challenges Through Music, and is an active member of the National Collegiate Choral Organization.
Clifton Pearson - Governor's Arts Award
Clifton Pearson is a "vessel maker" - he "works to contain space." He's good at it, too. This Birmingham native is known for his unique style of figurative sculpture and his gift for mentorship, both developed over a fifty year career as an artist, educator, and administrator. Pearson's leadership helped develop the Alabama A&M arts program into a magnet for artists, leading to future positions at Stillman College and the University of Montevallo. A recipient of the Ford Foundation Fellowship grant, the Governor's Arts Award is Pearson's latest achievement.
Mary Settle Cooney - Jonnie Dee Riley Little Lifetime Achievement Award
Mary Settle Cooney of Tuscumbia, Alabama is a 39-year veteran of the Tennessee Valley Art Association, becoming executive director in 1989 after only nine years on the job. She fought to renovate the historic Ritz Theatre in downtown Sheffield, now home to a lively performing arts school. Cooney directed the expansion of the Tennessee Valley Art Center into a dynamic, four-gallery museum home to one of Alabama's oldest pieces of art, the Martin Petroglyph, and an education program named after Cooney herself. Although she retired in 2019, Cooney has never lost her passion for art, one which forever changed North Alabama.
Patty McDonald - Albert B. Head Legacy Award
Patty McDonald, a globetrotting performer and philanthropist from Denver, Colorado, never expected that she would one day call Alabama home. Fifty years after settling down in Birmingham, though, that was no longer the case. As an actress, McDonald appeared in many memorable productions with the Virginia Samford and Red Mountain Theaters. As a leader, she served with the Alabama Ballet, Opera Birmingham, UAB's Alys Stephens Center for the Performing Arts, and many more organizations dedicated to Alabama art. McDonald passed away in November of 2021, but her legacy won't be forgotten anytime soon.
Stanley Smith - Alabama Folk Heritage Award
Sacred Harp singer and composer Stanley Smith has championed the art of a capella music for as long as he can remember. Raised in Ozark, Smith experienced firsthand the cultural value of music and the diversity of form between Alabama's white and African American communities, forms he is dedicated to linking. He has organized singing schools, composed in honor of the music of overlooked communities, and regularly served on the revising committee for The Sacred Harp, the hymnal which gave his craft its name.
David Hood - Alabama Distinguished Artist Award
David Hood is almost as good at the bass as he is at naming bands. He and his 'Swampers' have performed in Muscle Shoals hits like Bobby Purify's "I'm Your Puppet" and Etta James' "Tell Mama." After starting their own studio, the Swampers contributed to over 500 recordings, including 75 gold and platinum hits. Of course, they are best known for their contributions to Lynyrd Skynyrd's iconic "Sweet Home Alabama." A member of the Alabama Music Hall of Fame and a Rolling Stone Top 50 bassist, Hood now is now bringing an Alabama Distinguished Artist Award back to his Shoals hometown.