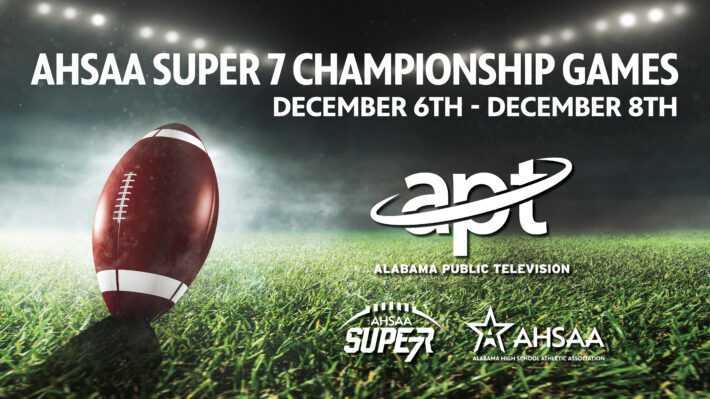 ---
MONTGOMERY –The Alabama High School Athletic Association (AHSAA) and Alabama Public Television are pleased to announce that APT will again be the AHSAA TV partner for the Super 7 Football Championships and State Basketball Championships this coming school year.
APT is working with the NFHS Network and Broadway Productions to make available the two state championship events to every home in Alabama. The agreement includes broadcasting live all 7 boys' state football finals and two girls' flag football tournament finals to be held at Bryant-Denny Stadium Dec. 6-8, and all 14 state boys' and girls' state basketball championship games at the BJCC Legacy Arena Feb. 29-March 2.
"We are excited by this opportunity to once again share Alabama's AHSAA State Football and Basketball Championships with viewers throughout Alabama," said Wayne Reid, Executive Director of Alabama Public Television. "We had a tremendous response to last year's broadcasts. The championships are a great addition to our six and a half decades of telling Alabama stories."
The NFHS Network will continue to be the primary digital source. Broadway Productions, the NFHS Network contracted producer managed by Vincent Earley, will continue to produce all finals as well as the basketball semifinals and finals."
Recordings of the games will be available on-demand on APT's website the week following the broadcast.
"Alabama Public Television, the NFHS Network and Broadway/WOTM TV worked together last year to expand our coverage to more homes via television and live streaming than ever before in AHSAA history thanks to APT's presence and availability through cable, satellite and antenna TV," said AHSAA Executive Director Alvin Briggs, who announced the agreement for 2023-24 at Tuesday's AHSAA Kickoff Classic Press Conference and annual Media Day.
"We are even more excited with this year's agreement. The AHSAA, NFHS Network, and APT are all dedicated to serving our member schools and our state. What better way than to display just what educational athletics means to our schools and communities through our championship programs through our AHSAA TV Network partners."
The NFHS Network, which manages the linear and digital portions of the AHSAA TV Network, has been live-streaming AHSAA championship events since 2013-14. Broadway Production and WOTM TV of Sylacauga have partnered to produce a record number of events each year since 2019.
Michael White, Executive Vice President for Content and Programming for PlayOn! Sports, which manages the NFHS Network, said, "The NFHS Network and the AHSAA have had a wonderful partnership for many years, and we're really thrilled to be continuing with Alabama Public Television this year. The NFHS Network's OTT platform for digital viewing combined with the APT Statewide Television Network, will blanket the state of Alabama and beyond in AHSAA Football and Basketball Championship coverage."
The games will continue to be produced by Broadway/WOTM TV with Vince Earley serving as executive producer.
APT CONTACT: Michael McKenzie: [email protected] / 205-451-0123.
AHSAA CONTACT: Ron Ingram: [email protected] / 334-590-2232