---
Premiering Wednesday, January 19 at 7:00pm
To discover the secret lives of animals, sometimes the animals must show us themselves. Go where no human cameraperson can go in Season 2 of Animals with Cameras, A Nature Miniseries.
Wildlife cameraman Gordon Buchanan and a team of pioneering animal scientists join forces to explore stories of animal lives "told" by the animals themselves. The cameras are custom-built to fit on the animals unobtrusively and to be easily removed at a later point. In episode one, "Oceans" (Wednesday, Jan. 19), witness a fascinating underwater world out of reach to regular camera crews. In episode two, "Australia" (Wednesday, Jan. 26), see firsthand the lives of some of the country's most iconic wildlife.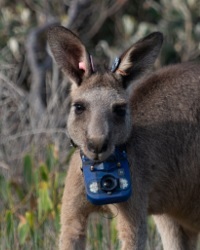 Do female turtles feed in the ocean when they are nesting? Why are gannet populations thriving, while other seabird species are declining? How do kangaroos survive when pushed out of their environments by urban development? The unique vantage point given by these state-of-the-art cameras reveal answers to these questions alongside the scientists studying these species. By better understanding the private lives of endangered animals, conservationists can improve efforts to save them.
One-of-a-kind sequences captured by the animals include several on-camera firsts. A male koala bellows at night to assert territory, the first time this behavior has been recorded in such close proximity. Soar above an Australian cityscape from a fruit bat's perspective. Elephant seal pups play with their peers in the ocean, countering previous beliefs they are solitary creatures. Tiger sharks dive 500 feet in the coral reef to hide and search for prey.