Forged by Fire.
Guided by Faith.
Rev. Fred Shuttlesworth was raised in the crucible of segretated Birmingham, but he was forged by its attempt to kill him. In December, a new documentary explores the life and legacy of an unrelenting freedom fighter who inspired liberation movements all over the world.
Anti-integration students protest outside Phillips High School.
Rev. Fred Shuttlesworth's home after it was destroyed by a bomb on Christmas night, 1956.
Rev. Shuttlesworth on a hospital gurney after his beating by the KKK when he tried to enroll his children at the all-white Phillips High School.
Rev. Shuttlesworth speaks to a newsman during the Freedom Rides in 1961.
Revs. Ralph Abernathy, Martin Luther King Jr, and Fred Shuttlesworth in Selma, AL.
Rev. Shuttlesworth leads a march prior to his arrest during 1963 demonstrations in downtown Birmingham.
Fred Shuttlesworth speaking to a police officer and other men during an attempt to integrate buses in Birmingham, Alabama.
Revs. King, Shuttlesworth, and Abernathy speak to reporters in the courtyard of the AG Gaston Motel in Birmingham.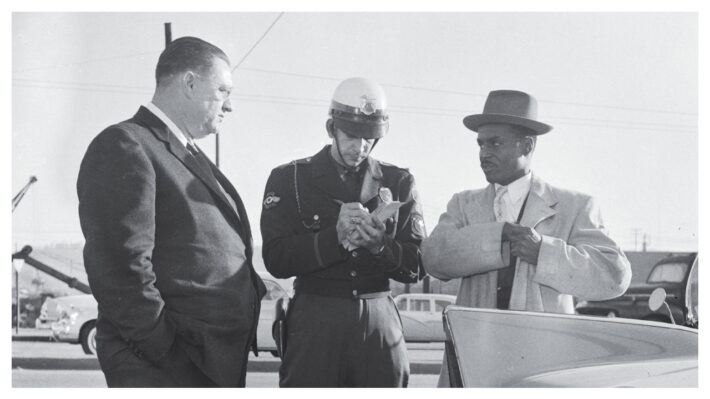 Premiering Tuesday, Dec. 20 at 8:00pm
To celebrate the 100th anniversary of his birth, Alabama Public Television presents an original documentary about Birmingham civil rights leader and icon, Reverend Fred Shuttlesworth. Featuring exclusive interviews with Rev. Shuttlesworth, family members and colleagues, the film examines Shuttlesworth's crucial contributions to the Civil Rights Movement, which, in turn, helped define the national consciousness during the mid to late 20th century and first quarter of the 21st and amplify the integral role that Birmingham played as the catalyst in propelling the movement onto the national stage.
Beginning with his segregated childhood in the Oxmoor Valley, SHUTTLESWORTH follows the reverend's life through Bethel Baptist Church, the Birmingham Campaign, and the reactionary violence unleashed by the white power structure of the city. Through this lens, SHUTTLESWORTH examines the City of Birmingham, its unique history and culture, and how the city became the symbol for social justice and the American Civil Rights Movement.
SHUTTLESWORTH features interviews with a wide range of authors, experts, family members and community and political leaders including Birmingham Mayor Randall Woodfin and former Birmingham mayor Richard Arrington, Jr., Dr. Martha Bouyer, Judge U.W. Clemon, Dr. Robert Corley, Dr. Andrew M. Manis, Fred Shuttlesworth, Jr., Ruby Shuttlesworth Bester, Patricia Shuttlesworth Massengill, Dr. Carolyn Shuttlesworth, Carolyn McKinstry, Dr. Sephira Bailey Shuttlesworth, Rev. Carter Gaston, Diane McWhorter, Janice Kelsey, Jefferson Drew, Shelley Stewart, Bishop Calvin Woods, and Odessa Woolfolk.
.
Made possible through the generous support of:
Alabama Humanities Alliance
Alabama Power Foundation
Medical Properties Trust
The Comer Foundation
Robert R. Meyer Foundation
Mike & Gillian Goodrich Foundation
Alabama Civil Rights Trail
Produced in partnership with:
Alabama Department of Archives and History
Birmingham Civil Rights Institute
City of Birmingham
Historic Bethel Baptist Church