Happy 200th Birthday, Alabama!
Alabama marks its 200th birthday on December 14, 2019. Come celebrate with Alabama Public Television's originally produced resources!


Alabama Public Television IQ Learning Network has produced a series of online learning adventures for use in the classroom and at home. The live versions feature student reporters interviewing experts and exploring topics while viewers are able to submit questions and participate in polls in real time. After the live webcast, Learning Adventures are archived online along with additional educational resources for viewing at any time. Participation is FREE and open to all who wish to take a virtual field trip without ever leaving the classroom!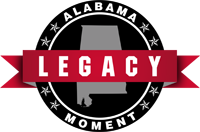 Alabama Legacy Moments commemorates the Alabama Bicentennial with 200 distinctive short pieces about the people, places and stories that have defined Alabama. Experience the natural beauty of Alabama, explore our history, celebrate our people, and share our unique heritage through this retrospective.